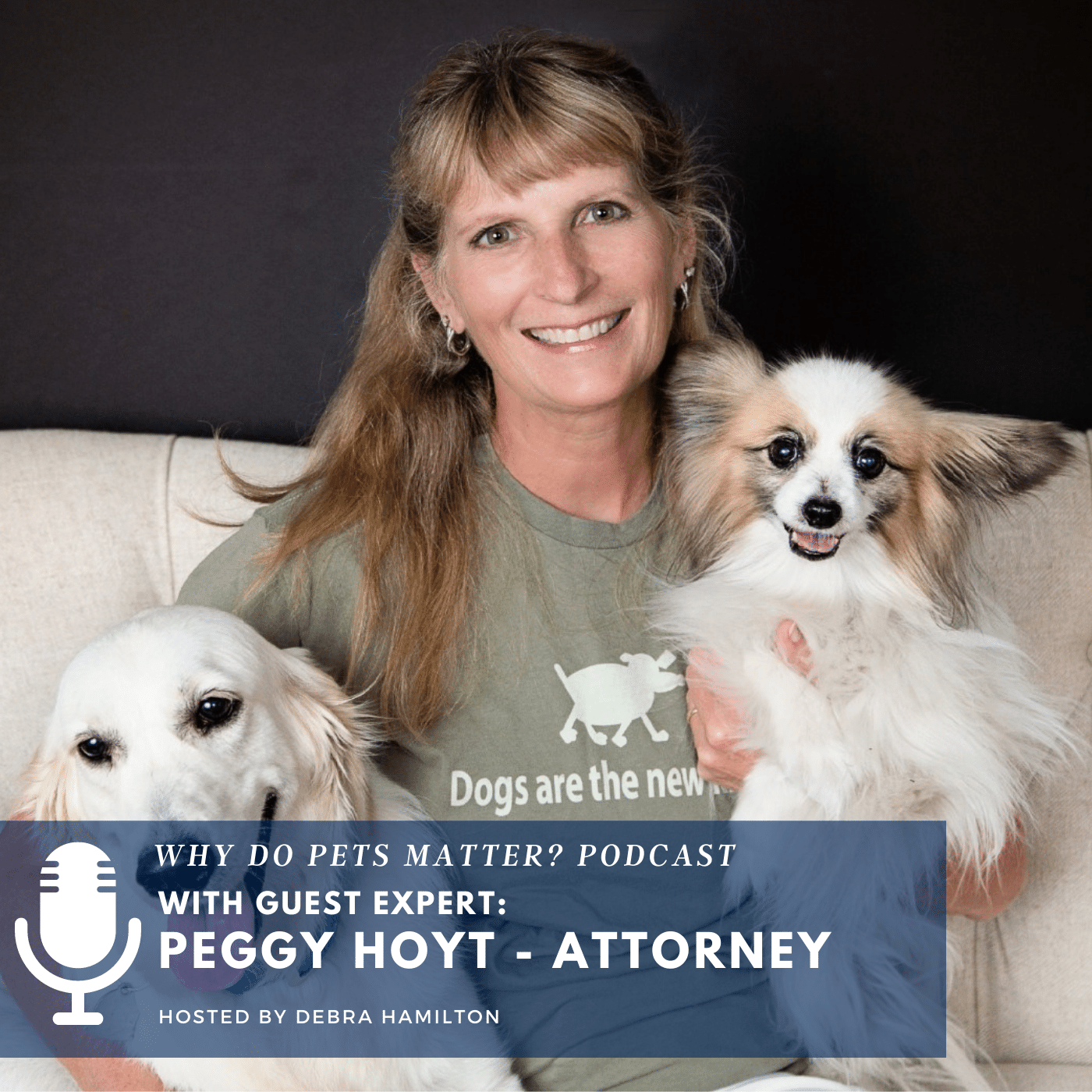 "What would happen to your pets if something happened to you?" 
That's the question today's guest, Peggy Hoyt, a Trust and Estate attorney and I are exploring in this episode of "Why Do Pets Matter?"  and why having a MAAP Plan in place for your pets is so important!
Peggy describes herself as "an attorney, animal advocate, and pet mom." Her love for animals was developed as a child when her father, John A. Hoyt was the President and CEO of The Humane Society of the United States.
Now, her days start by taking care of 3 horses, 6 dogs, and 2 cats before she goes to her office! 
She is a founding partner of Hoyt & Bryan, LLC. Peggy is dual-certified by the Florida Bar in Wills, Trusts, and Estates and in Elder Law.
She is the author of All My Children Wear Fur Coats – How to Leave a Legacy for Your Pet, a book for pet parents on the importance of including their pets as part of their estate plan. She also hosts a weekly "paw-cast" on Buzzsprout called All My Children Wear Fur Coats.
Peggy is the Founder and CEO of Animal Care Trust USA, a not-for-profit organization dedicated to helping pet parents keep loved pets in loving homes. The organization offers several Forever Loved Pet Trust solutions including Forever Home, Forever Family, and Forever Sanctuary. Animal Care Trust USA can act as a corporate Pet Trustee and is leading the animal estate planning world with the creation of the Forever Loved Pet Trust, a community Pet Trust.
Hoyt & Bryan, LLC
https://hoytbryan.com
Pawcast: All My Children Wear Fur Coats with Peggy Hoy‪t‬
https://podcasts.apple.com/us/podcast/all-my-children-wear-fur-coats-with-peggy-hoyt/id1460842551
Animal Care Trust USA
https://www.animalcaretrustusa.org/
Book: All My Children Wear Fur Coats
https://www.amazon.com/All-Children-Wear-Fur-Coats-ebook/dp/B009OJQWZ0/