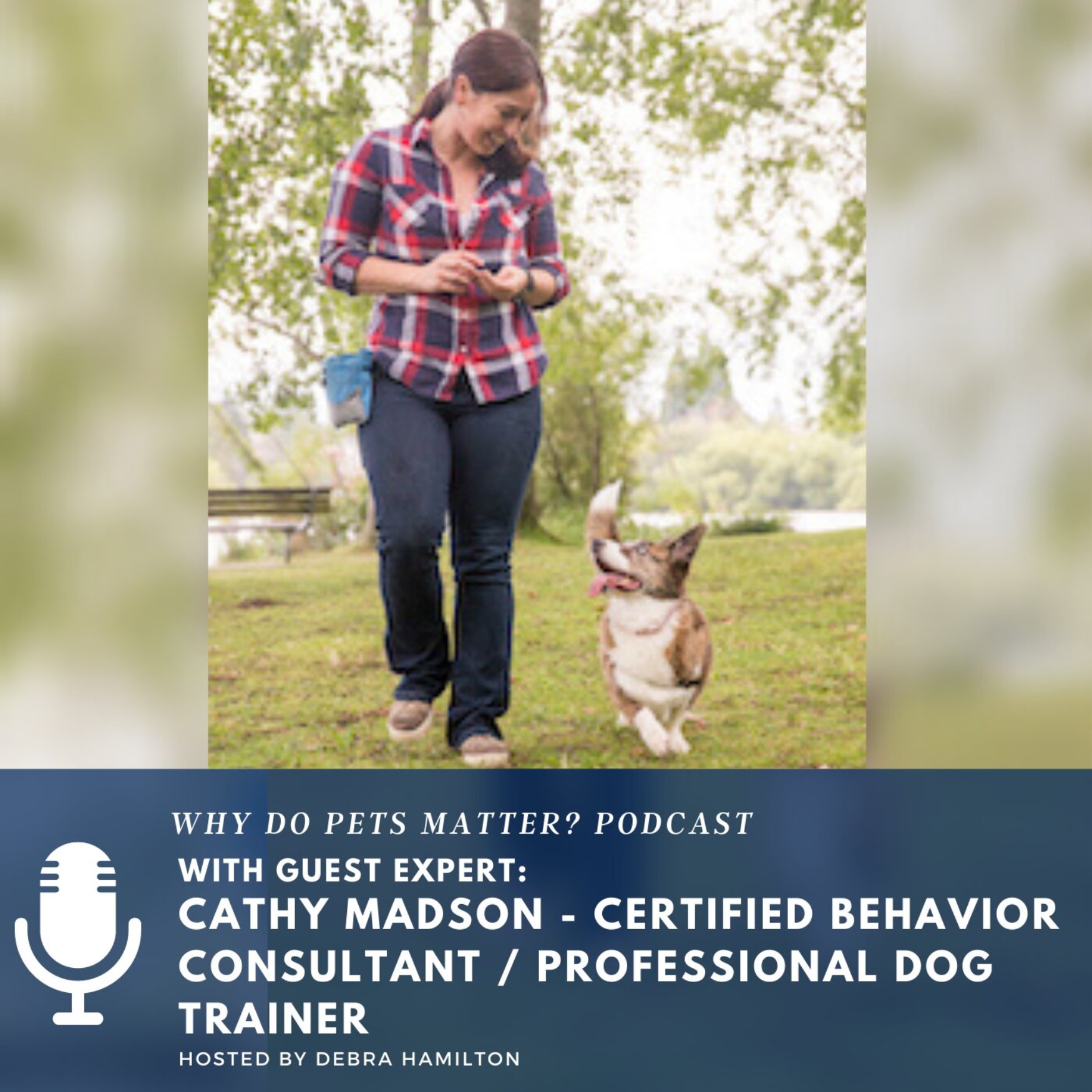 During this episode of "Why Do Pets Matter?" We're speaking with Cathy Madson, a Certified Behavior Consultant and professional dog trainer from PreventiveVet.
She was one of our special guests in December 2019 and gave a mini-training about leaving your dog alone.
At the time, little did we know that we would really need that training in 2021.
So, Cathy's back with another training on how to leave your dog alone, plus how to address things your pet might be doing right now since you've been home more, and what's going on with "Major Biden". 
More About Cathy Madson, MA, CBCC-KA, CPDT-KA
Cathy Madson became a certified dog trainer in 2008, but she likes to think that her career began when she was six years old and a stray wandered into her yard and became her first dog companion.
She completed her CPDT-KA certification in 2017 and her CBCC-KA certification in 2019. Cathy is a Fear Free Certified Certified Professional, a member of the Association of Professional Dog Trainers (APDT), and a training professional member of The Pet Professional Guild (PPG). She's also a member of the Dog Writer's Association of America.
Cathy loves to geek out at dog behavior and training conferences. As Preventive Vet's dog trainer on staff, Cathy focuses on helping humans and their pets build a strong relationship based on trust, clear communication, and the use of positive reinforcement training methods. Her specialties include canine separation anxiety, leash reactivity, and dog aggression. When she's not working, you can usually find her paddle boarding or knitting yet another dog sweater for Sookie, her Welsh Cardigan Corgi.
Resources:
YouTube of our latest Yappy Hour: From Pandemic to Pupstanding! https://youtu.be/Y3eBeEbwxwE
Puppy Essentials and Dog Training Essentials Workshops - https://www.PupstandingAcademy.com
West Paw Toppl toy (alternative to Kong): http://amzn.to/2m5E2zR
Michael Shikashio -- aggression specialist (and who the Bidens should really hire)
Denise Fenzi -- amazing with high drive dogs
Connect with Cathy:
Facebook: https://www.facebook.com/PreventiveVet
YouTube: https://youtube.com/c/Preventivevet
Twitter: @PreventiveVet
Instagram: @PreventiveVet