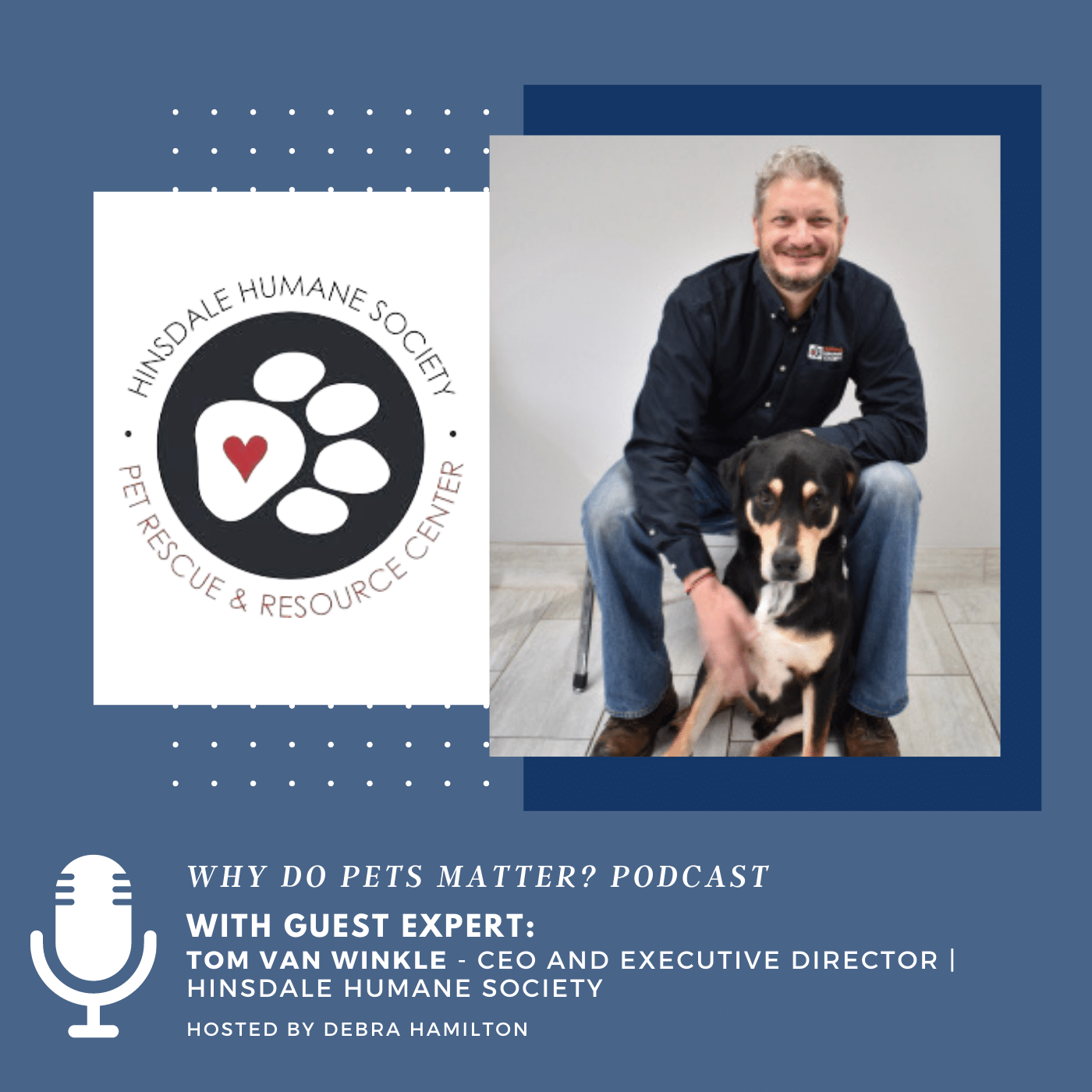 Tom Van Winkle, CEO and Executive Director of the Hinsdale Humane Society in Chicagoland, IL joins us during this episode of "Why Do Pets Matter?". He's chatting with us about how pets and their potential people are screened for adoption, the language you need to use when you're screening, how to help people foster animals, and helping our deploying servicemen and women find a home for their pets when they deploy.
More About Tom
Tom Van Winkle brings more than 20 years of animal welfare industry experience to his position as Executive Director of HHS since 2017. Beginning with his early experience as a volunteer and board member of a small humane society in 1997, Tom also served as executive director for a humane society in the Chicago suburbs in 2005. 
He holds a Bachelor of Science degree in Mathematics from the University of Illinois and an MBA in Finance from Loyola University. Tom credits his upbringing in a family filled with compassion as a source of constant inspiration as he guides HHS to become one of the premier animal shelters in the country.
Connect With Tom
Email: tom.vanwinkle@hinsdalehumanesociety.org
Phone: 630-323-5630 x11
About Hinsdale Humane Society
The Hinsdale Humane Society operates the Pet Rescue and Resource Center which serves the entire Chicagoland region. The primary focus of their mission is to eradicate animal homelessness by providing a temporary safe haven for homeless animals until a forever family can be located and operating programs to keep pets from becoming homeless in the first place. 
They accomplish their mission in many ways including pet adoptions, low-cost spay/neuter services for other rescues, humane education, pet therapy, and obedience classes. Their experienced staff can help you find a new family member or assist with issues your current pet may be experiencing.
The most important part of our job is to repair and strengthen the bond between humans and their pets. We believe in a humane world for all living beings.
Connect With The Hinsdale Humane Society
Website: https://www.hinsdalehumanesociety.org/
Facebook: https://www.facebook.com/HinsdaleHumaneSociety