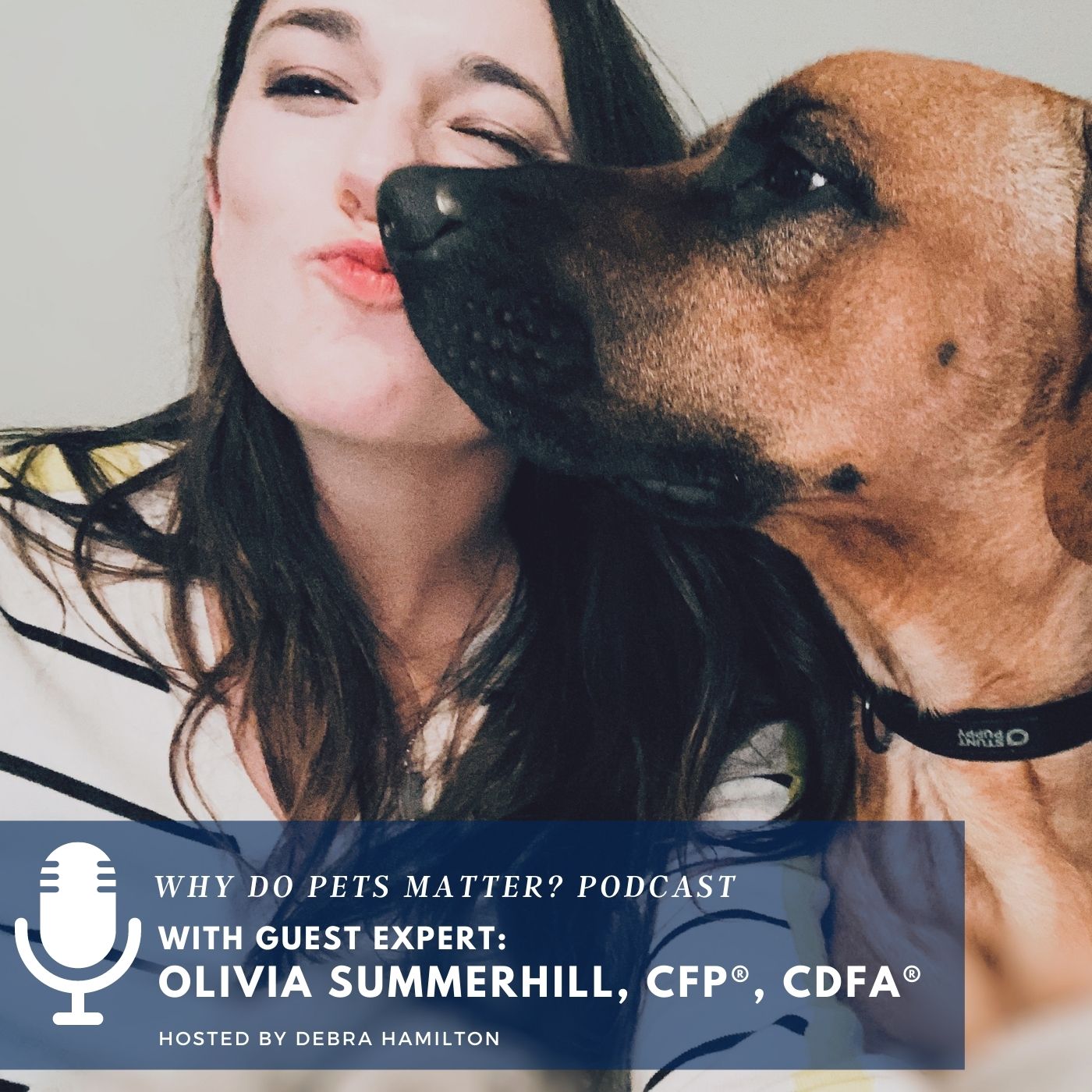 Olivia Summerhill, CFP®, CDFA®-- a financial planner -- is joining us during this episode of "Why Do Pets Matter?" 
Olivia helps women who are going through a divorce with their finances. One thing she has noticed is that most people don't put together a plan for their pets while they still like one another -- pre- disagreements, separation, and ultimately divorce.
Olivia is sharing her thoughts about the importance of having a plan in place for the care of your pet from the perspective of a financial planner who has seen the devastating consequences of her clients' not having any sort of agreements in place pre-divorce.
The last thing you want is for your ego or pride to get in the way of doing what's in the best interest of your animal!
Learn More About Olivia Summerhill:
Olivia Summerhill, the founder of Summerhill Wealth Management, works exclusively with affluent women, protecting their lifestyle throughout the divorce process. Olivia works closely with her clients' divorce attorneys to give them the ammunition they need to negotiate the most advantageous settlements.
After the divorce finalization, Olivia uses her knowledge of behavioral finance to work with her clients on topics relating to a divorce's impact. Specifically, on the psychological behaviors such as self-awareness, money patterns, and effective financial decision-making, her female clients can control and maintain their living standards.
Olivia is one of few financial professionals to hold a Certified Financial Planner, Certified Divorce Financial Analyst, and Behavioral Financial Advising credentials.
When she's not working, Olivia loves conversing in French -- and she may have a mild addiction to collecting saltwater fish. 
She also has a Rhodesian Ridgeback named Leo, who is almost 2 years old. She did her research and waited years before getting a dog so that she would have enough space/energy/money to raise him right. She has invested almost $20k on Leo's training and he is her triathlon training partner. Currently, she's training for an Ironman 70.3 to raise money for Savvy Ladies, a non-profit that helps women take control of their finances.
She has a passion for volunteering on boards and seeing the difference it makes in the community.  
Connect with Olivia:
Website: https://www.summerhillwealth.com