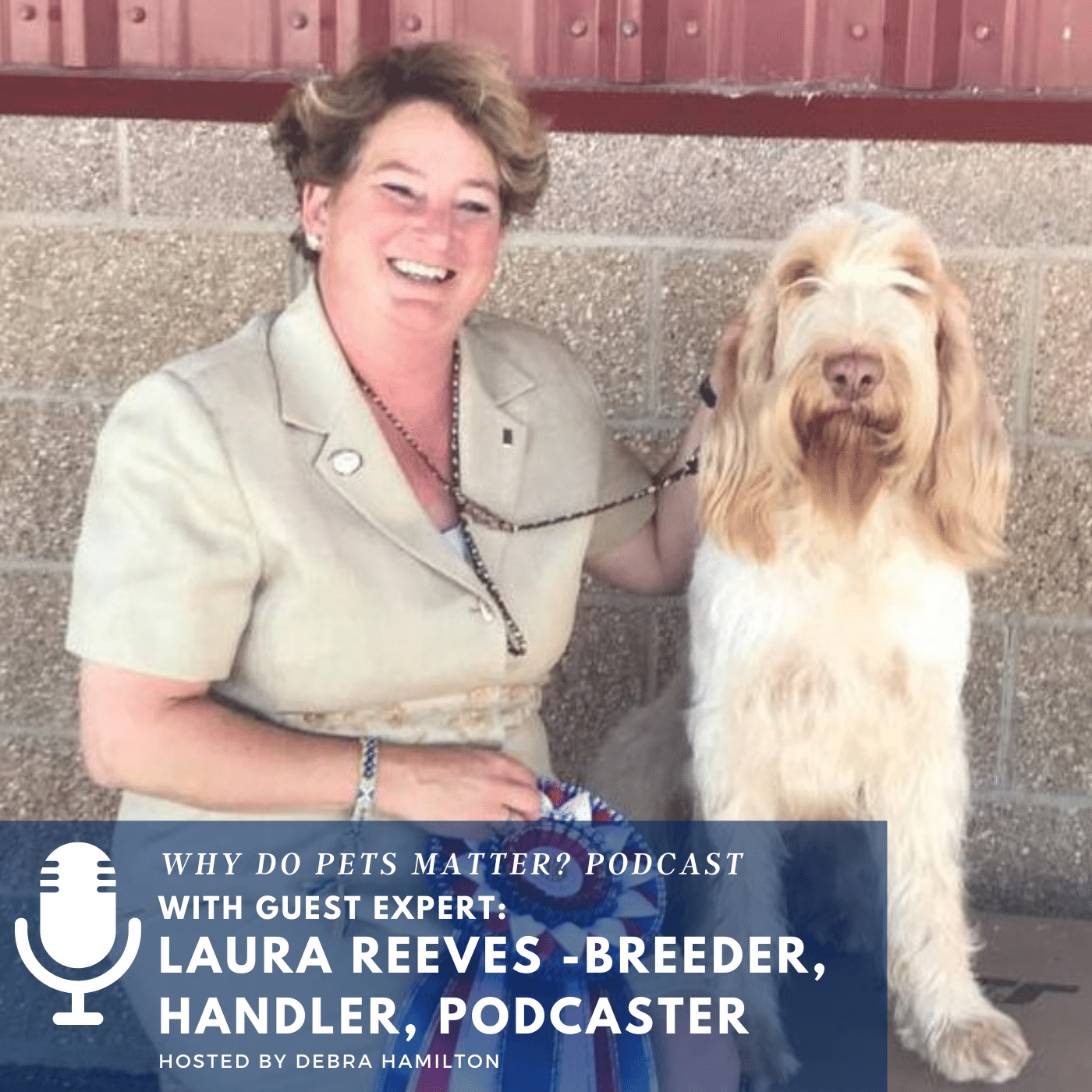 Today we're chatting with my long-time friend, Laura Reeves, about how breeders sustain their breeds and how they pick their owners. 
She is a breeder, exhibitor, former handler, and seasoned podcaster -- hosting Pure Dog Talk and a contributing host to the Good Dog Pod. 
Laura's motto is, "As man plans, God laughs!"
Learn more about Laura Reeves:
Laura is an AKC Breeder of Merit, AKC Judge, Good Dog Advisor, and a retired zone representative for the Professional Handler Association. 
She is a second-generation breeder of German Wirehaired Pointers, under the Scotia Kennel banner. She is also one of the hosts of The Good Dog Pod.
In her professional handling career, spanning 25 years, Laura consistently maintained a high-quality, low-number client list.
She has finished hundreds of dogs, with group-winners from each of the seven variety groups. Specializing in rare breeds and challenging dogs, she has piloted dogs to Best in Show, Best in Specialty Show, Group wins, #1 rankings and more.
Scotia dogs have earned well over 100 titles — in the show ring, in hunt tests, field trials and NAVHDA (North American Versatile Hunting Dog Association), in agility, tracking, obedience and rally. 
Her dedication to breeding dual-purpose dogs reflects a stated goal of preserving the all-weather, rugged, sound-minded versatile gun dog the breed's founders envisioned.
Laura has served the GWPCA as AKC Gazette columnist, Judges Education Committee member and chair, Vice President, President, National Events Coordinator and more.
Her podcast, Pure Dog Talk, is The VOICE of purebred dogs. Laura talks to the legends of the sport and gives you tips and tools to create an awesome life with your purebred dog. From showing to preservation breeding, from competitive obedience to fieldwork, from agility to therapy dogs and all the fun in between; your passion is Pure Dog Talk's purpose.
Pure Dog Talk is a proud supporter of the American Kennel Club, our Parent, Specialty and All-Breed Clubs, Dog Sports, Therapy, Service and the Preservation of our Canine Companions. 
The Good Dog Pod supports dog breeders and responsible dog ownership.
Good Dog is on a mission to build a better world for our dogs and the people who love them by educating the public and advocating for dog breeders.
The Good Dog Pod achieves its mission by providing dog breeders and the public with the latest updates in canine health and veterinary care, animal legislation and legal advocacy, canine training and behavior science, and dog breeding practices.
You can connect with Laura here:
https://www.scotiakennel.com/about/
https://www.PureDogTalk.com/
https://www.facebook.com/PureDogTalk
https://twitter.com/puredogtalk
https://www.gooddog.com/good-dog-pod
https://www.facebook.com/goodbreedercenter
https://twitter.com/officialgooddog